Stuffed Salmon with Rock Crab Meat & Nordic Shrimps
"I made this dish for Christmas dinner and it was absolutely perfect! The rock crab meat stuffing with the brie, dill and mayo was delicious, flavorful and a wonderful new tradition to add to the holidays!"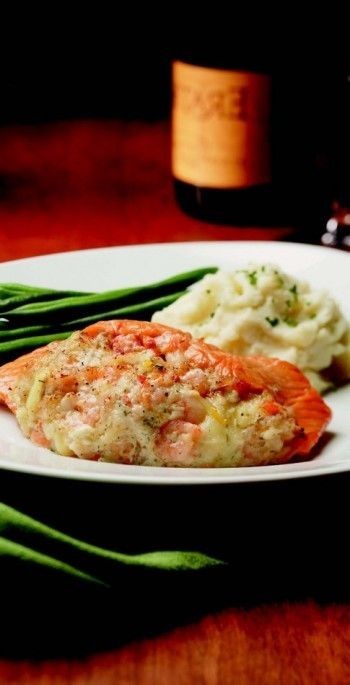 1 cup beurre blanc sauce (recipe below)

4 5-ounce Atlantic Salmon fillets

6 ounces Canada Nordic Shrimps

6 ounces Wild Rock Crab meat

6 ounce brie cheese, cut into ½ inch cubes

3 tablespoon mayonnaise

1 tablespoon chopped fresh dill

Pinch of salt and pepper
6 ounces white wine

3 ounces white wine vinegar

3 whole black peppercorns

1 shallot, quartered

1 cup heavy cream

6 ounces cold, unsalted butter, cut into pieces

3 ounces cold, salted butter,cut into pieces
Preheat oven to 400°F.
Prepare the beurre blanc sauce and set aside.
Prepping the Salmon
Split the salmon fillets lengthwise to form a pocket for the stuffing.
Combine the shrimp, crab, brie, dill, salt and pepper.

Gently blend in the mayonnaise to bind the mixture. Divide the stuffing mixture between the four pocketed fillets. When full, let the flaps cover the stuffing so that only a small amount is exposed. Bake in a lightly buttered baking dish for 10 to 12 minutes.Transfer to dinner plates and spoon the beurre blanc over the fish.
Beurre Blanc Recipe
Combine wine, vinegar, peppercorns and shallot in a non-corrosive saucepan (stainless steel, Teflon, Calphalon).
Reduce until the mixture is just 1 to 2 tablespoons and has the consistency of syrup. Add the cream and reduce again until the mixture is 3 to 4 tablespoons and very syrupy.
Remove the pan from heat. Add the butter pieces, about 2 ounces at a time, stirring constantly and allowing each piece to melt in before adding more. (If the mixture cools too much, the butter will not melt completely and you will have to reheat it slightly. Strain and hold warm on a stove-top trivet or in a double-boiler over very low heat until you are ready to use.
Prep 20m | Cook 12m | Ready 32m
Beurre Blanc Sauce (makes 1 cup)