Bacon Wrapped Stuffed Chicken
"This dish is hearty and filled with exquisite flavours, Serve this with a nice cup of white wine and indulge! "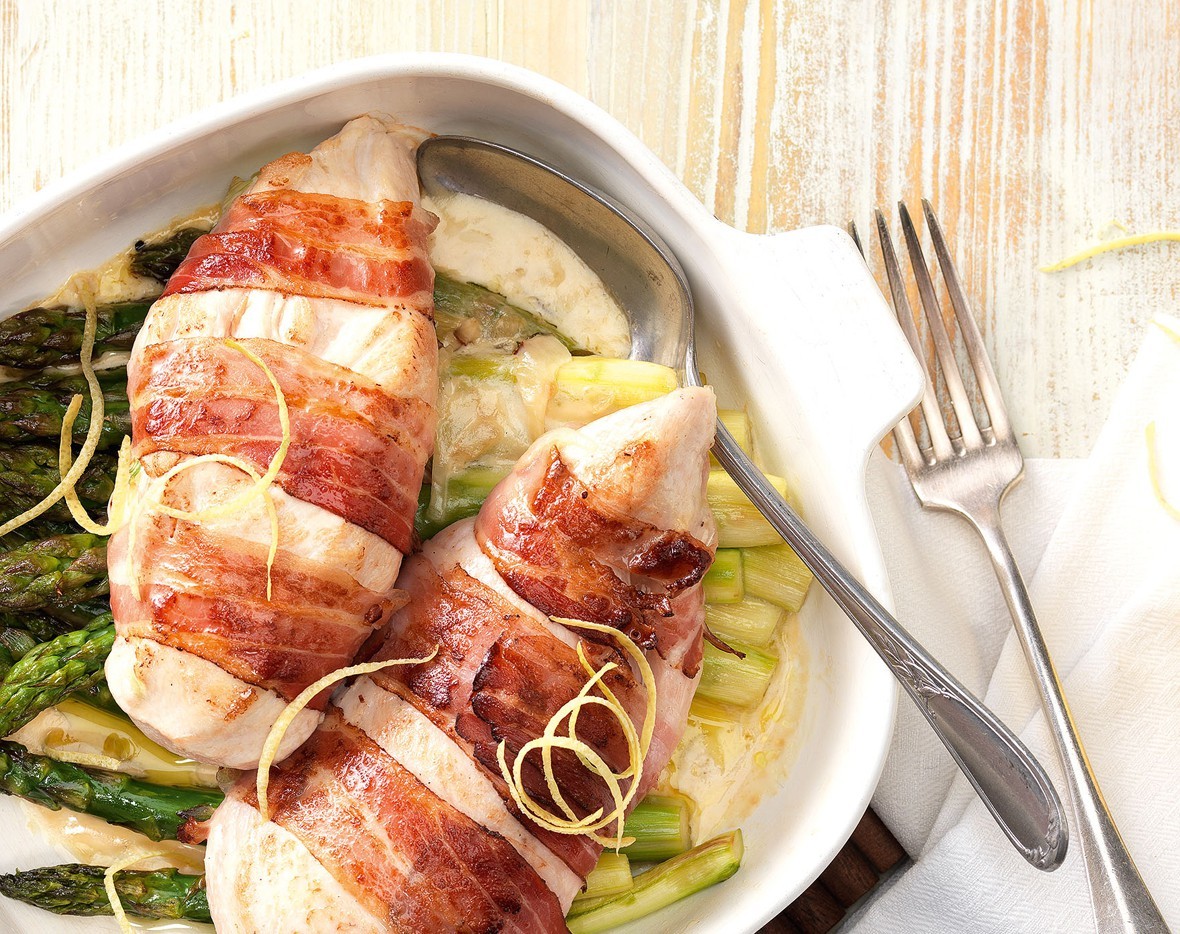 4 Chicken Breasts (thaw)

8 Bacon Strips (thaw)

2 Seafood Cakes (thaw)

1 Bunch of Asparagus (1Lb ~ 12-16pcs)

2 cups Alfredo Sauce
Preheat oven at 400F
Mix Butter & Garlic. Spread at the bottom of a casserole
Clean asparagus and lay in casserole.
Sprinkle salt and pepper. Leave aside.

With knife, cut the chicken horizontally, making the chicken open up like a butterfly. Put chicken in between a plastic liner. Use a mallet and flatten the chicken.

Scoop 3 tbsp (or more to your liking) of Seafood Cake mix onto the flatten chicken. Wrap Chicken around the stuffing.
Wrap chicken with 2 strips of bacon, making sure that the chicken breast holds the stuffing properly.
Lay chicken on top of asparagus. Bake for 40 minutes.
After 40 mins, raise temperature to broil or 500F.
Leave casserole in oven for 5 more minutes until bacon crisps up.

Empty Alfredo sauce in a pot and place on stove top on medium heat. Warm up the sauce and add white wine. Reduce to sauce consistency.

Place asparagus & chicken on plate and add alfredo on top. Ready to serve!

Prep 20m | Cook 45m | Ready 1h5m
1/2 cup White wine (dry)

2 tbsp Butter

1/2 tbsp garlic

1tsp Salt

1tsp Pepper