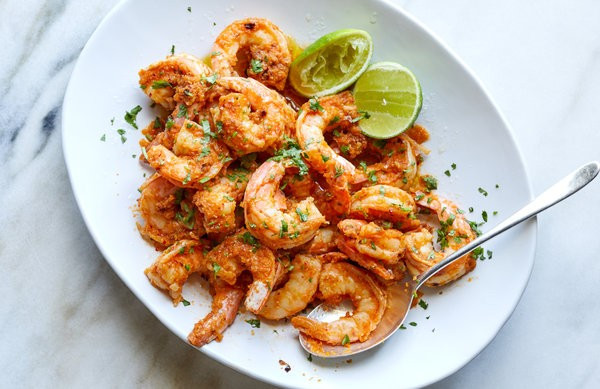 ¾ cup roughly chopped kimchi

1 ½ pounds shrimp, peeled and deveined, tails left on (16 to 20 shrimp)
Kosher salt

3 tablespoons unsalted butter

2 garlic cloves, finely chopped
1 ½ teaspoons finely chopped ginger

½ teaspoon red-pepper flakes (optional)

½ lime, for serving

2 tablespoons roughly chopped cilantro


Flaky salt (optional)
1. In a food processor, pulse the kimchi until it resembles a paste. Season the shrimp with kosher salt.

2. In a 12-inch skillet, melt the butter over medium heat. Stir in the garlic, ginger and red-pepper flakes, if using, and cook until fragrant, about 30 seconds. Add half the shrimp to the pan in one layer and cook undisturbed until they just start turning pink about 1 minute. Flip and cook for about 1 minute more, then remove from the pan and set aside. They may not be fully cooked at this time, and that's O.K. Repeat with remaining shrimp and leave in the pan.

3. Add the reserved shrimp back to the pan with any juices that have accumulated. Add the kimchi paste and stir together with the shrimp until everything is well coated and the shrimp is cooked through, about 2 to 3 minutes more. Remove from the heat, squeeze with lime and scatter cilantro on top. Make sure to spoon the residual pan sauce on top and season with flaky salt if desired.
Prep 2m | Cook 8m | Total 10m